"One cannot think well, love well, sleep well, if one has not dined well."
- Virginia Woolf



While CHEZWaWa is a "fast-casual" restaurant, we believe
that 'food served fast' can also be 'fast-good' and doesn't necessarily have to be a
'fast-food experience'.

At our steam-table counter, our Crew quickly assembles
high-quality and flavorful ingredients
which are served in an open and sociable atmosphere.

However you want it.
Freshly cooked and wrapped right in front of you.
Usually the simplest things in life are the best.



Our overriding principle is allowing customers to know where the food comes from and exactly what's in it.

Our Top 10 Guiding Principles for sourcing and ingredient choices:
All menu items in the counter are made from scratch.
Farm-to-Counter means that we use as much local produce as possible and that we have gotten to know (and in many cases visited ourselves) the producer and/or distributor to know exactly where it comes from and what care has been given before arriving at our doorstep.
Our meats/proteins are fermier (farm-fresh, free-range) and/or responsibly-raised.
We strive to prepare and serve our dairy items and salsas using mainly farm-fresh ingredients from sustainable and highest-quality sources.
We have privileged our supplier and product choices to those which provide
no hormones, no ogm, no artificial colorings or flavorings, and limited use of additives and preservatives.
We always have flavorful vegetarian and vegan options.
We favor the use of rapeseed oil, sunflower oil and avoid the use of palm oil if possible.
Our grilled poultry, vegetables and guacamole are prepared daily to ensure freshness.
We respect seasonality and don't attempt to serve fresh tomatoes or corn when nature doesn't intend it.
Frozen ingredients are used when this is the most practical way to lock in freshness and/or respect seasonality.
And yes, there is a number 11 – To serve only what we would (and do) eat ourselves.
We invite you to view the Farm-to-Counter Chalkboard in the store to find out which Farm-Fresh and Local Ingredients are currently being used in our menu -
which can vary by season and by suppliers' availability.

A few examples :
Coprosain, Ath
Weerribben Zuivel, Overijssel Netherlands
Coop. Pajottenland, Flanders
Westland Peppers, DeLier Netherlands
BioFresh,
Majority of fresh fruits and vegetables, dairy products, tofu, rice, spices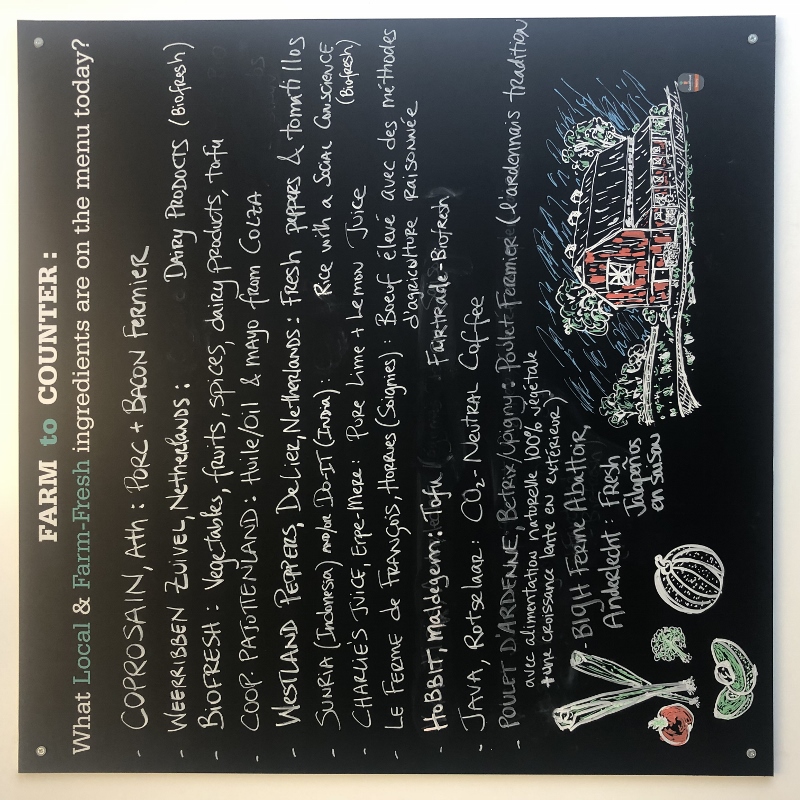 Furthermore we invite you to call, write or visit us to find out what "variable" choices are on today's menu: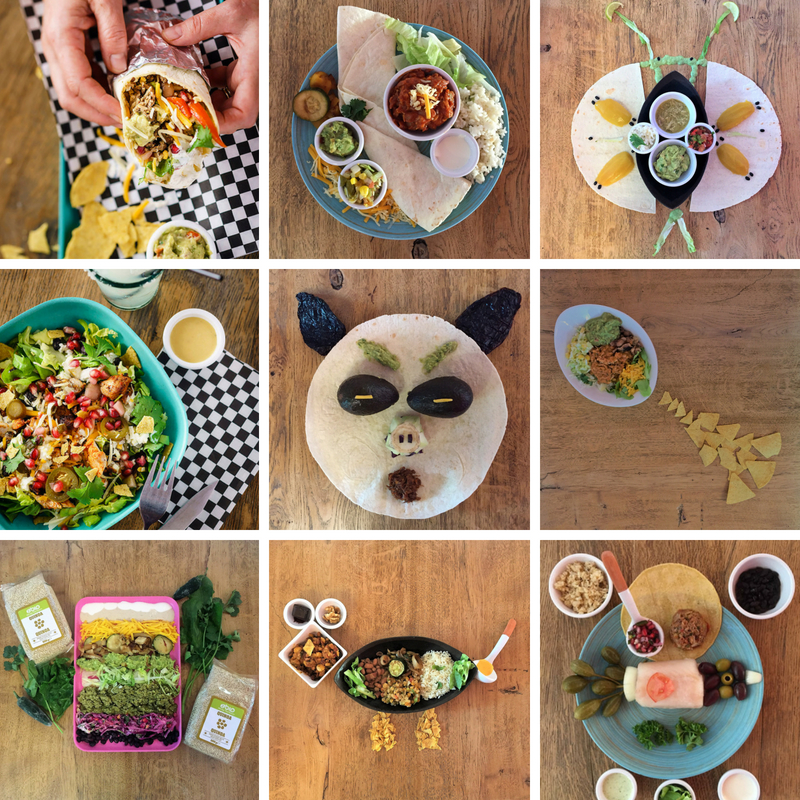 Our Meals of the Month (MOM) @Châtelain
and
our Salads of the Month (SOM) @Royal

At Châtelain, it's a special meal (wrap, tacos, naked burrito)
and at Royal, it's a special Grab-n-Go salad -
both made with seasonal Belgian ingredients
and Mexican flavors which changes every 4 to 6 weeks.
Homemade Aguas Frescas (water, lime, sugar)

We always have two flavors available, one with a mix of fruits and the other is "Mexican taste".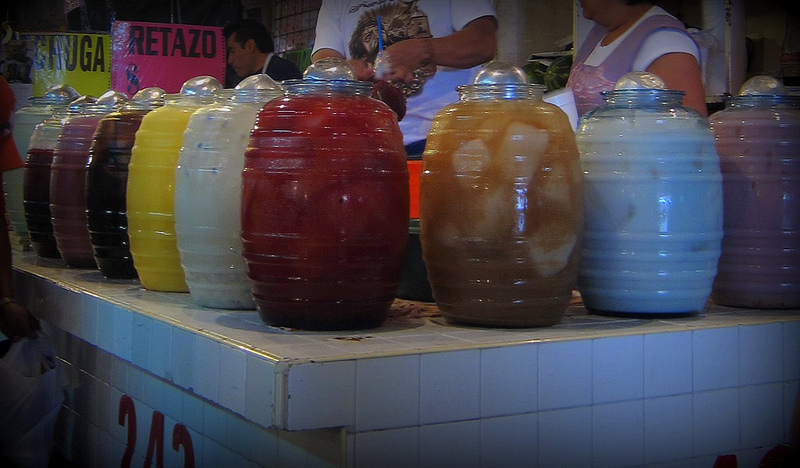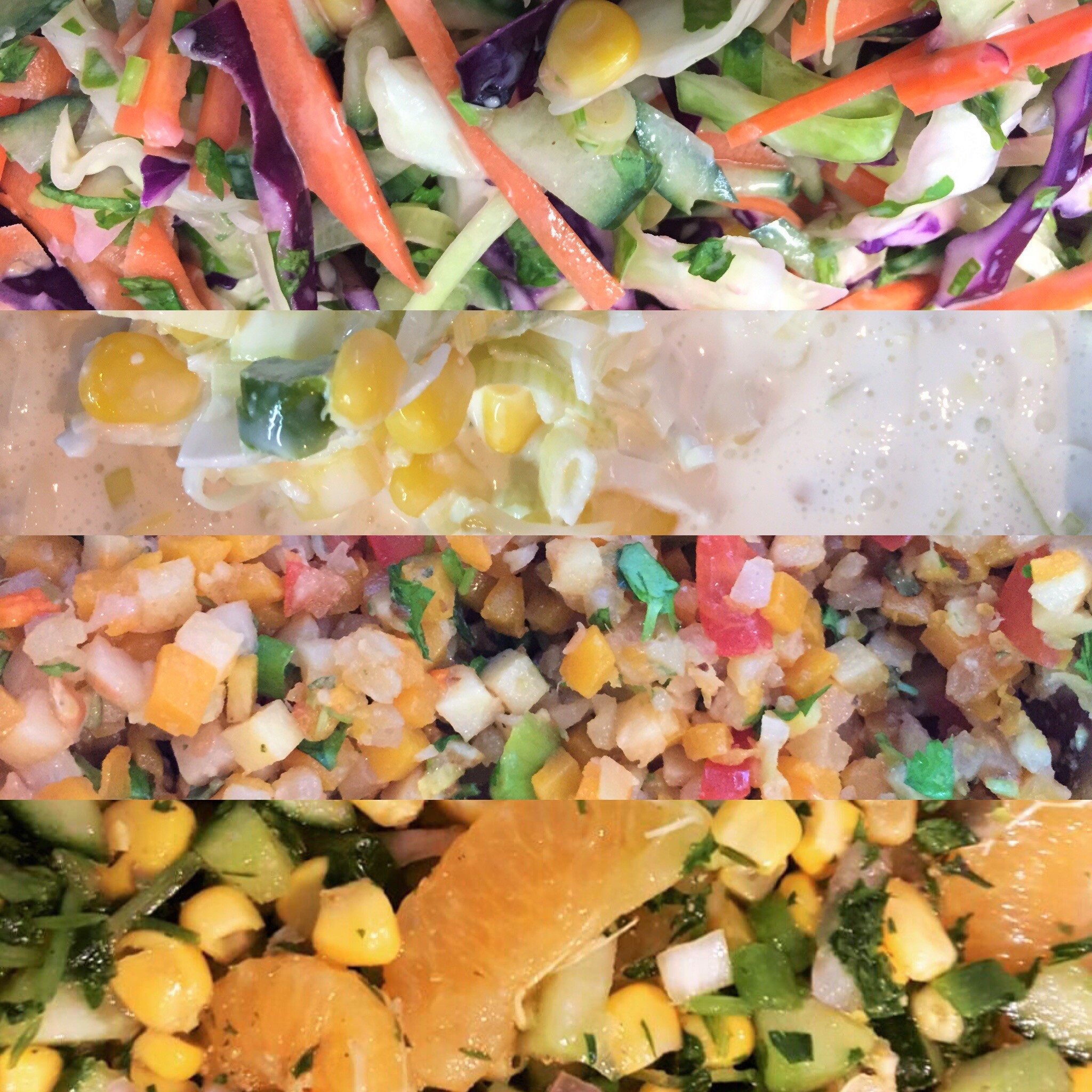 Seasonal Salsas

Our Fresh and Mild Salsas change based
on nature's availability for farm-fresh vegetables.
In fact our credos include #RespectSeasonality and #FarmToCounter.

From Pico de Gallo and Mexican Slaw …
to Oranges, Corn & Shallot
and Leeks, Sour Cream & Feta Cheese…
We love to rotate our salsas with the seasons.
So ask us what's on now… and then come put them to the (taste-)test!

Contact us to find out what's on this week!
Allergen Information
Click HERE for the chart of Major Food Allergens in our main menu items
Note that our menu and ingredients can vary on a daily basis.
Please contact our staff in person or by phone to understand the allergens present in our menu items.