The Mexican taste sensation has finally arrived in Brussels!

Try some authentic "California-style" Mexican food at the CHEZWaWa fast-casual restaurants located on Rue Américaine in Ixelles and on Rue de la Presse in downtown Brussels, specializing in fresh and flavourful burritos, tacos, salads & more, made from the highest-quality farm-fresh, seasonal and sustainable ingredients. CHEZWaWa was amongst the first restaurants awarded the Good Food-Resto Label (2 toques) by Bruxelles Environnement.
Own Way
Fresh, fast, flavorful and made-to-order, just as you want it.
Frais, rapide, délicieux et préparé à la minute, selon l'envie du client.
Fris, snel, lekker en op maat, volgens de keuze van de klant.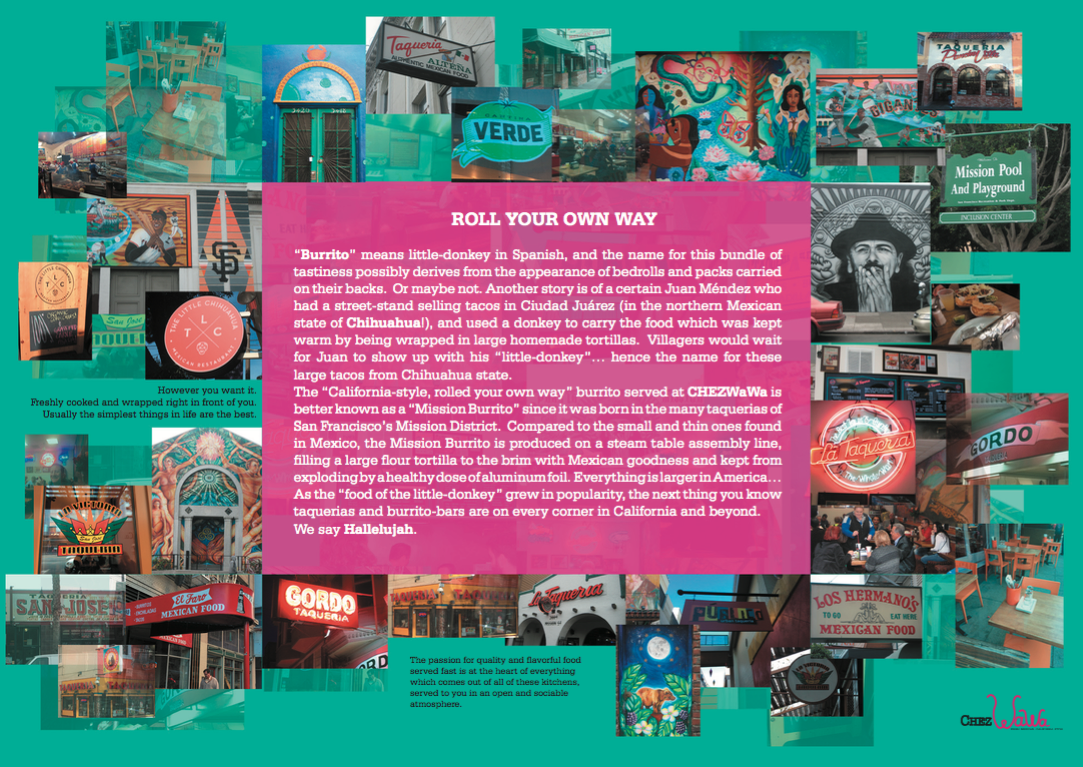 CHEZWaWa's mission is to introduce Brussels to a new style of "farm-to-counter" California-style Mexican dining.

La motivation CHEZWaWa, c'est d'offrir à Bruxelles un nouveau style de restauration californienne-mexicaine dans un esprit "de la ferme au comptoir".

CHEZWaWa's doel is om in Brussel een nieuwe restauratie van Californische-Mexicaanse stijl "van boerderij tot toonbank" bekend te maken.



CHEZWaWa has committed its efforts to sustainable operating practices, including the following steps:



We seek ways to minimize waste generated including food waste, and to minimize energy and water consumption.



We recycle all of our waste and try to make it easy for our customers to do the same when eating here.



We have made efforts to choose mainly recycled-content and/or FSC certified paper items.



We have made efforts to choose mainly sustainable packaging made from recycled-content and/or biodegradable materials, and have proactively eliminated our use of plastic items.



We have made efforts to choose non-aggressive, non-toxic cleaning products.



We look to source the vast majority of our ingredients from local suppliers, producers and distributors
- defined as a maximum distance of 300 km from Brussels (i.e., Belgium, Netherlands, France, Germany).
There may be some items such as avocados and certain spices and specialty items
(as well as tomatillos and peppers during the winter period) which we may need to source from further distances.